Welcome to the Melbourne Bridge Club - Clubrooms currently closed due to Corona virus
We have partnered with Bridge Base Online to offer duplicate bridge tournaments at 11:30 am Mondays, 7.00 pm Tuesdays, and 12.30 pm Fridays. There is a supervised play session Monday nights at 7.00 pm. (Other days will be added when demand exists.)
Firstly, you have to register at www.bridgebase.com. Registration is free. YOU DO NOT HAVE AN ACBL NUMBER so leave blank. Set skill level to BEGINNER and country to AUSTRALIA. You need to confirm your BBO registration in the email they send to you.
To enable me to enrol you to play in the MBC on-line tournaments you need to be financial member of MBC. Once registered on BBO you need to send an email to phebian.pontifex@gmail.com containing your abf number, your name, your email address, and your BBO username. If you do not have an abf number please also include your home address and date of birth so that I can register you with the abf. I will then enter your BBO username into the online database, and will forward the information to the abf so that you can get masterpoints. Please note that although registration at BBO is free, it will cost 300 BBO$ (it is measured in CENTS) to play in MBC tournaments (approximately $5 AU). The Melbourne Bridge Centre is the oldest private Bridge Club in Victoria and is one of the largest. The Clubrooms are spacious and have a comfortable playing area for up to 20 tables.
Ian and Sandra Mansell are the Directors along with assistance from Sally Foster, Darcy Funnell, and Rex Fox. Ian and Sandra teach beginners how to play bridge with structured lessons and also follow on with a supervised play program for beginners and intermediate players conducted through the Kew School of Bridge.

Competitive duplicate bridge sessions are also provided for more experienced players.
Our aim is for players to enjoy their Bridge at Melbourne Bridge Club. Visitors and new members are always welcome. A partner will always be provided if necessary, so do come along and experience the friendship of the club.

Sandra, Ian and our staff look forward to seeing you.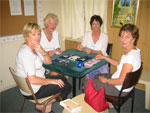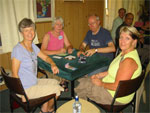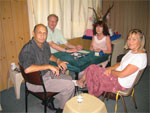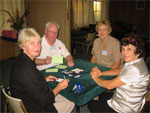 Images from Joan Smurthwaite's 100th and 104th birthday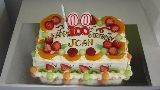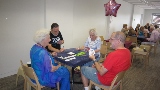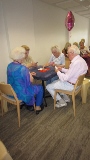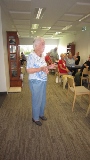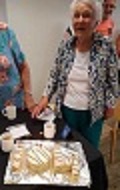 Joan Smurthwaite's 104th birthday


Duplicate: Due to the Corona virus all future sessions are cancelled. You will be informed when sessions recommence.
Mornings: Mondays at 11.30 am - 2.45.
Afternoons: Friday at 12:30 - 4.00 pm. Saturday at 1.00 - 4.00 pm.
Evenings: Tuesdays at 7.30pm.
Hand records are available all sessions

Supervised Play: Due to the Corona virus all future sessions are cancelled. You will be informed when sessions recommence.
Monday: 7.30 - 9.30.
Tuesday:10.00 - 1.00 pm (Supervised Duplicate)
Wednesday: 7.30 - 10.15 pm (Supervised Duplicate)
Friday: 10.00 am - noon (Supervised Play only)

Lessons

Due to the Corona virus, the date for next set of lessons is uncertain. The lessons are likely to be held Thursdays at 12.30 pm or at 7.30 pm. The lessons will cost $200.00 and will last for two hours for 9 weeks. For further information (after the starting date has been decided) either contact Ian Mansell 0417 095 921 or click here
Online lessons are available here.

Red Point Events

All Red Point dates for 2020 have not been decided. However the first Tuesday Night each month (apart from January and December; in November it is the second Tuesday night) is likely to be a Red Point Event. Visitors are welcome and no pre-booking is required.